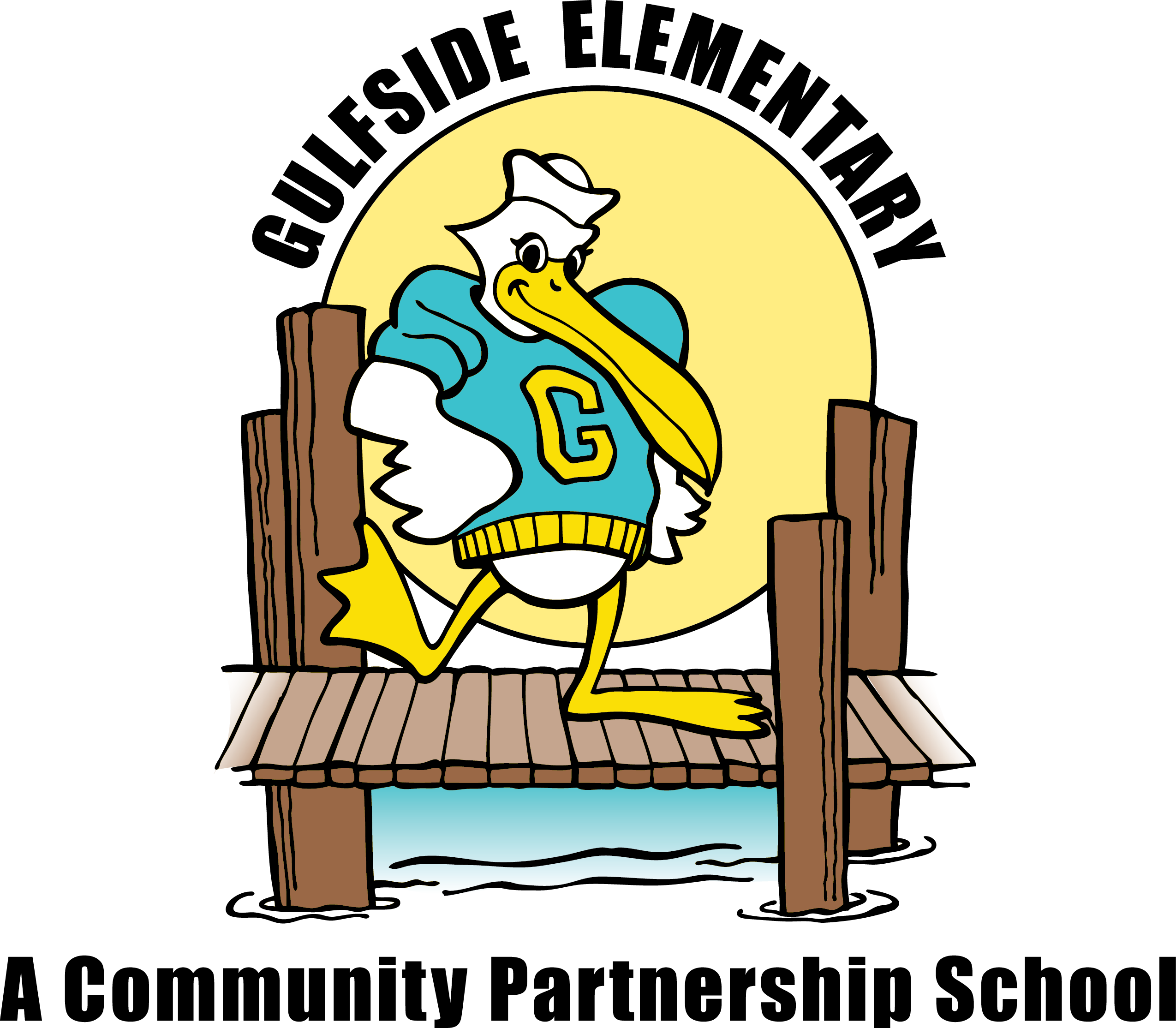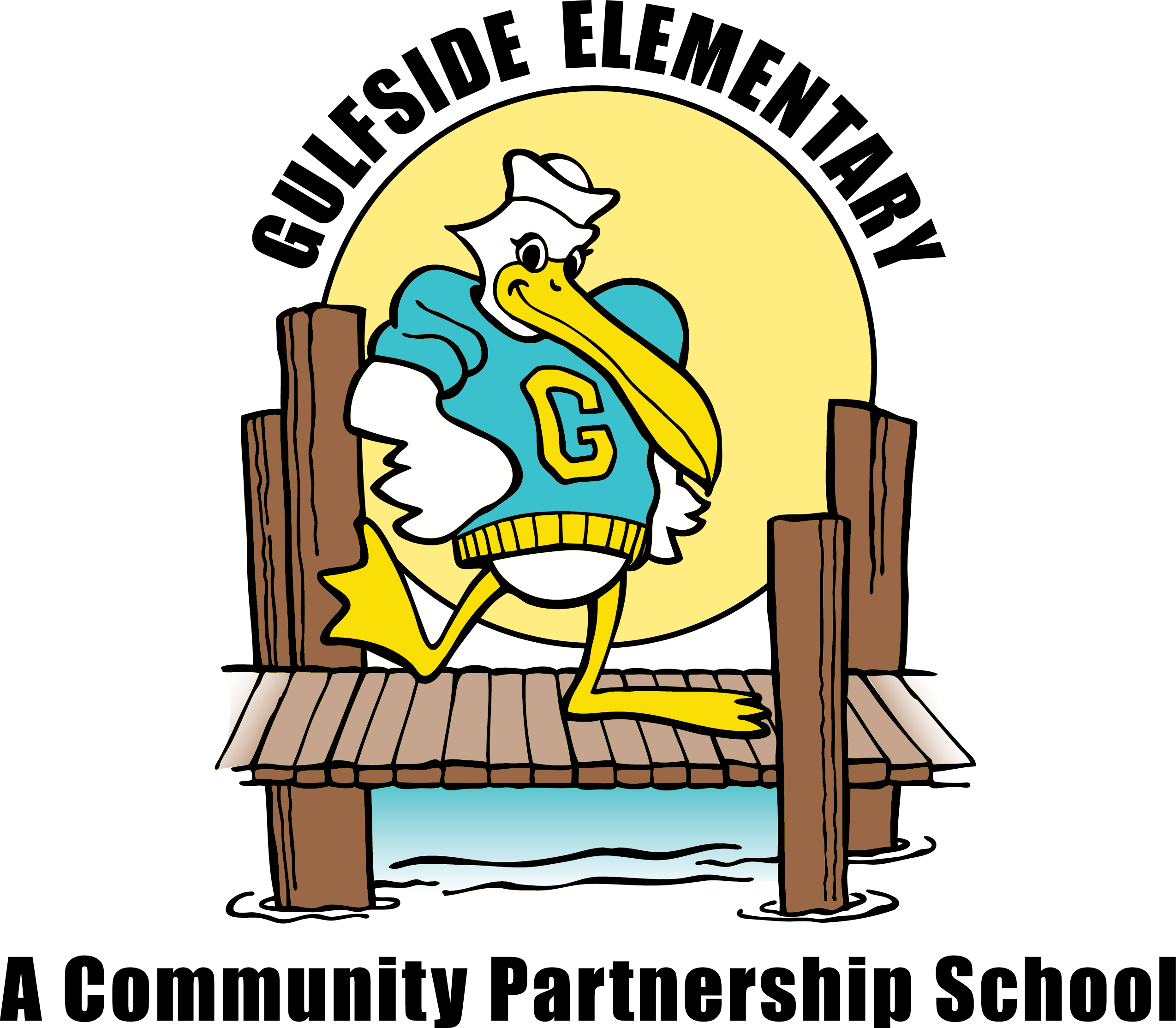 Gulfside Elementary School
Principal: Clara M. Craig
Asst. Principal: Jodi Legg
2329 Anclote Blvd.
Holiday, FL 34691
Phone: (727) 774-6000
Fax: (727) 774-6091
Questions?
Have a question or want to provide feedback? You're in the right place! Let's Talk! is designed to streamline communication by giving you a central location to submit a question, concern, or comment. Provide your contact information and someone from our school will get back to you very soon.
For the First week, Only Kindergarten Parents who want to walk their K student to the class door can be in the school building at arrival. K Parents, please wait to come onto campus at 9:40am wearing a mask and an adult will meet you.
EVERY SINGLE DAY SELF-ASSESS WITH THE STUDENT SCREENER
Every morning, your students must get in the habit of going over these self-screener questions before heading out for school. If you answer "Yes" to any question(s), please follow the guiding information in italics. Just ONE Yes response means "Don't come to school today."
Note: This is the current edition of the screener. You will be advised if updates occur. 
Look for the Student Screener at this link or see below.
VISITORS COMING TO CAMPUS
Visitors are limited to those with appointments. Please phone the front office (727) 774-6000 if you need to make an appointment to come to school.
All visitors must:
Complete the Visitor Self-Screener found at this link.
Come to the front office for check-in
Pasco Approved Volunteers will check in at the Community Hub, use the outside front entrance
Remain in a designated location as directed during the visit (ex. front office, Community Hub Volunteer area)
JESSICA LUNSFORD ACT COMPLIANCE For your peace of mind, please know that any workers contracted to be on campus when students are here must pass a background check consistent with the Jessica Lunsford Act.
VOLUNTEERS: As well, all volunteers must be pre-screened by Pasco County Schools through an application found here. We welcome you to apply to be a Gulfside Elementary School Volunteer!
HEALTH AND SAFETY PROCEDURESPolicies and procedures are fluid and may change as new directives are received. This is a current snapshot. Find latest information at the district's Re-opening page.
To follow are health precautions and procedures implemented throughout our school:
MASKS
Masks are required of adults and students. Everyone must wear masks in school buildings and when engaged in school activities. Read the district's face covering policy here.
HALLWAYS – KEEP RIGHT / KEEP MOVING
Students must wear masks in the halls, stay distanced from others, not congregate in groups, get to their class without stopping, and keep to the right.
SIGNS
Students and visitors will see signs all around the campus about social distancing, hand washing, directional arrows for keeping to the right when moving about the building, and requirements for people entering campus.
HYGIENE
Hand sanitizer stations are being installed in visible areas throughout campus. Soap dispensers are in all classrooms and bathrooms. Please talk to your student about treating the dispensers gently. We want all to have easy access to soap and sanitizer.
DISINFECTION
Custodians will be disinfecting each room daily. Germicide spray is in each room with a microfiber cloth. Cleaning is in place for cafeteria, hallways, handrails, and frequently touched surfaces.
SINGLE USE SUPPLIES: Students will not be sharing supplies. In classes such as Art, we ask that students use their own set of supplies.
WATER FOUNTAINS Fountains will be "on" for the filling of bottles. Plastic bottles or other approved containers must have a lid that stays on tight to avoid spills. No drinking directly from fountains please!
STUDENT BEHAVIOR We believe that all students and families will take health and safety seriously. Therefore, I am confident that we will have full cooperation with wearing masks, staying socially distanced, washing hands, and following all the best practices for good health. However, if there is a pattern of a student not following the rules (such as for masks), we will reach out to parents, our school counselor and enact progressive disciplinary consequences as needed. This may include rescheduling to mySchool Online from Traditional.
CLINIC The clinic will have a separate room in the nearby portable for any unwell students exhibiting symptoms of COVID-19. Our Clinic assistant or Para will monitor/supervise students in this area. We will immediately contact parents/guardians for students to be taken home. We have procedures in place for situations that might come up. Our goal is the safety and well-being of all our Pelicans.
Please see additional information listed in our Pasco Parent COVID Response Guide: https://www.pasco.k12.fl.us/reopening/parent-covid-response-guide
#GULFSIDESTRONG
JOIN THE GSES SCHOOL ADVISORY COUNCIL
Once each month, we host a meeting of the School Advisory Council (SAC). The SAC stays informed about school initiatives, reviews and has input into the School Success Plan, and has a voice in all matters related to our school.
We value your commitment as either a family member or business partner. If you are interested in being part of this valuable team, please contact Mary Peralta at mperalta@pasco.k12.fl.us or call 727-774-60.
JOIN THE GSES PTO
Two times per quarter, we host a PTO meeting to plan special events (virtual this year) for our students, families and staff. The PTO welcomes parent, staff and community input in all matters related to our school.
We value your commitment to PTO as either a family member, staff or business partner. If you are interested in being part of the PTO, the cost is $5 per family for the year. To join, please contact Andrea Guy at alguy@pasco.k12.fl.us or call 727-774-6004.
Please read the information below about our back to school procedures.
OUR BELL SCHEDULE FOR 2020-21
Gulfside Elementary has a new bell schedule for our day together. This is due to the change in start date. While our day begins at the same time of 9:30am, our Dismissal time is now 4:08pm. There can be no students, even if a walker, bike rider, or back gate walker on school campus prior to 9:20am. Please reach out to YMCA if you need before or after school care.
Also note that:
There will be NO Early Release Days during 1st semester.

There will be NO Enrichment or Tutoring Activities before or after school during 1st Quarter.

There will be no school activities held with 50 or more students during 1st Quarter.

Many family and community events will take place virtually or with limited attendance.
ARRIVING EACH MORNING & BREAKFAST IN THE CLASSROOM
Breakfast will be "Grab and Go" from our breakfast carts and eaten in the Classroom.
Buses will begin arriving at 9:25am and start unloading.

Entrance doors will be assigned according to your child's assigned classroom. Signs will be posted and adults will be available each morning to direct your child to either the side doors in the front of school, or to the back door entrances of the school building.

Before students enter the side or back entrance doors, they may pick up a Grab and Go breakfast at the serving carts located near both of these entrances.

Students will go directly to their classroom using the appropriate hallway and eat breakfast in the classrooms starting at 9:25am. The late bell rings at 9:40am.
Students may take off their mask while eating, but then put it right back on when finished and will need to stay seated. There will be no share bins or sharing of food and drink items. And we ask everyone to be considerate of others and clean up after eating.
Clinic
This year, for student safety, if a student needs to visit the clinic for scheduled medication/ treatments, or for an injury at school, an adult will meet them at their classroom and bring them to the front office clinic, then back to class. If a student is exhibiting symptoms of illness, an adult will walk them to the clinic health center portable and contact the parent right away.  
Click here to see the Pasco Parent COVID Response Guide
LUNCHES AND SEATING
Parents and visitors are not allowed to each lunch with students during the first semester of school.
Cleaning: Our cafeteria and eating locations are sanitized each day and tables are cleaned with germicide between each lunch period. We've installed hand sanitizer dispensers across campus – in the cafeteria as well. We encourage hand-washing and custodians will check soap dispensers throughout the day.
Must be Seated: All students will be required to be seated if eating. No one is permitted to be standing up or walking when eating their food or snacks (at lunch or anytime during the school day).
Masks and Movement: When you are moving, walking, or standing anywhere during lunch, you must have your mask on. This is true throughout your day, too.
Cafeteria and Designated Eating Areas: Students in grades K-3 will eat in the cafeteria and are required to be seated apart (seating is marked). No one will sit across from them on the other side of the same table. Students in grades 4-5 will eat in the Media Center, Art Room, and in an Empty Classroom with no more than 2 students per table, maximum to maintain distance.
*mySchool Online Students registered at GSES can receive breakfast and lunch daily from GSES, in the bus loop from 8:30 to 9am. Payment will be based on the status of Free/Reduced Lunch, and please use the online MySchoolBucks program to pay if possible.
Media Center
Media Center Procedures:
~Classes will sign up for media time, 1 class at a time
~Students will sit at media tables, no more than 2 per table to maintain social distancing, and a limited number of students will be up searching for books to check out.
~Media books will be returned to the media return cart, and stored for 72 hours and wiped down before re-shelving.
END OF DAY DISMISSAL
We have a plan for our end of day dismissal that allows for students to stay in their seats with their classroom teacher until called to dismissal areas. We have purchased the PikMyKid dismissal program and more instructions will be sent home in the next few weeks for necessary parent registration. Please let your child's teacher know how your child will go home the first day and if different, for the rest of the year. We just ask for your patience as our students are dismissed in this safe and structured way.
Dismissal Choices: Car Loop, Bus, YMCA, Bike Rider or Walker (either back gate or West gate). Please note: cars are not allowed to park at back gate along the streets to pick up students, please use car loop for car pick up. Please have your car tag ready to show in the car loop, or you will be asked to park while we verify ID. Car tags will be given out during Meet The Teacher Day, and also sent home with students on the first day. Only adults with names listed on your child's emergency card will be allowed to receive or check out your child from school upon showing a valid ID.
For the safety of your child, please call the school before 3:30pm for any emergency dismissal changes.
During Arrival and Dismissal, Adults stationed in each hallway will monitor, direct, and assist students to get safely to their dismissal areas.
Remember: Masks on when moving!
Specials and recess
For the safety of students, Art and Music classes will be held in the homeroom classrooms. Students will not share art and music supplies. PE and Recess will be held outside, weather permitting, and the sharing of equipment will be restricted as much as possible with equipment that will be cleaned between classes. When outside, as long as students can social distance from each other, they may take their mask off for PE and for Recess. Before entering the building, masks must be put back on.
VIRTUAL ORIENTATION FOR GRADES K – 5
Our student and parent portals are open for you to go in, review and acknowledge some information from Pasco County Schools, pay school fees, download schedules, check bus information, and be ready to start the new school year off right!
And of greatest importance is the electronic version of the school Emergency Card. – click here for detailed instructions 
Get started by downloading the documents that follow:
Do you have a myLearning / Canvas account to see your student's courses online? If not, click here to set one up!