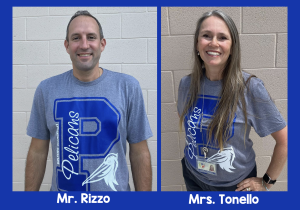 Mr. Rizzo
My name is Pio Rizzo, and I am the proud principal at Gulfside Elementary School. Joining this excellent Community Partnership School, I can assure you that I share in this school community's dedication to caring for our students every day, while providing them with a world-class education.
The 2022-2023 school year marked my 21st year in education. I served as the assistant principal at Mittye P. Locke Elementary for three and half years, and served in the same role at Pine View Middle for five years before being named principal at GSES. My educational background includes a Bachelors Degree and an MBA from Saint Leo University. I also have a Master of Education Degree in Educational Leadership.
I firmly believe that every child can succeed, and that the collaboration between home and school builds trust and self-esteem in students. Our students will use their highest potential to shape their future, and consequently, the future of our community. With my goals of advancing the culture of excellence here at Gulfside, I am devoted to continually exploring new ideas to meet the needs of all students, and to strengthen relationships with parents and community members.
Mrs. Tonello 
My name is Erika Tonello, and I am proud to be the assistant principal at Gulfside Elementary. I am a product of Pasco County schools and now have the pleasure of preparing our students for a successful future. I have many years as an educator both in Pasco County and Internationally. This will be my 18th year as an administrator. My Elementary Education degree is from The University of Alabama and my Master of Education degree is from the University of South Florida. Before becoming an administrator, I earned my National Board Certification in Middle Childhood Generalist. Additionally, I was the Pasco County Assistant Principal of the year for the 2009-2010 school year.
I have a passion for working with students and believe that all students can learn. Being a part of the Community Partnership is a wonderful opportunity and it is exciting that we can care for and provide for the needs of our students, in addition to their academics.
I look forward to teaming together as partners. Together we will provide a world-class education for our Pelicans.
Go Pelicans!